"You're my other half."
"My life began after I met you."
"You complete me."
No. Just, no. These bathetic, saccharine phrases may sound romantic at first pass. They've been written into narratives, scripts and screenplays. They're repeated at our own friends' wedding ceremonies as if they were plucked right out of the "How to Write the Perfect Wedding Vows" article on TheKnot.com. You may think I'm being cynical but I'm not; these phrases don't offend me personally. They just evoke a major bout of, "Do these people truly believe this about themselves? Or, is this the best way they know how to write/speak romantically?" If its the latter, said offenders may be forgiven because I realize some of us pay more attention to wordage than others. I totally get it. But if there are masses of people in relationships who think they're only half of something awesome, that to me, is a really big problem – societally speaking.
Bottom line: If you're one half of something, you're broken. Broken people should not be in relationships. They should be working on healing and becoming whole by knowing themselves.
I get that "You magnify my best self and also call attention to the areas I need to improve and together, we as a couple are extraordinary!" doesn't quite roll off the syrupy tongue in the same way "You complete me" does.
And I know that "I can handle life without you but man, I really, really, really love experiencing things with the love of my life by my side." doesn't quite pack the same punch as "I can't live without you."
I held on to the hope that women younger than me were sure to embrace the importance of being whole. And then the Twilight series blew up and I became seriously concerned. I was concerned because Bella from Twilight is not cute. She's pathetic. Perhaps you read the books too; if so, you also know the storyline is as pedestrian as they come but the real tragedy is Bella's character. She was literally physically weak every time her guy left the room…she irked me to my core. She's everything that is wrong with men and women who put too much pressure on equating self-actualization with their significant other. Had she said, "You complete me" in her wedding vows to Edward, I'd have believed her, sadly. But to have a partner in life is a bonus, not a prerequisite to survival.
If you need to idolize a fantasy couple, it needs to be Elizabeth and Mr.Darcy. Bella + Edward < Elizabeth + Mr. Darcy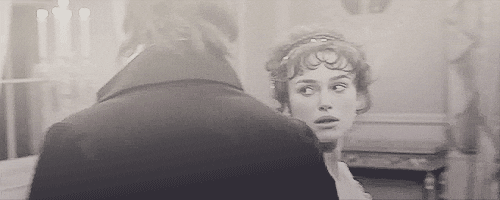 What do you think? I'd love your thoughts – Chime in below please!